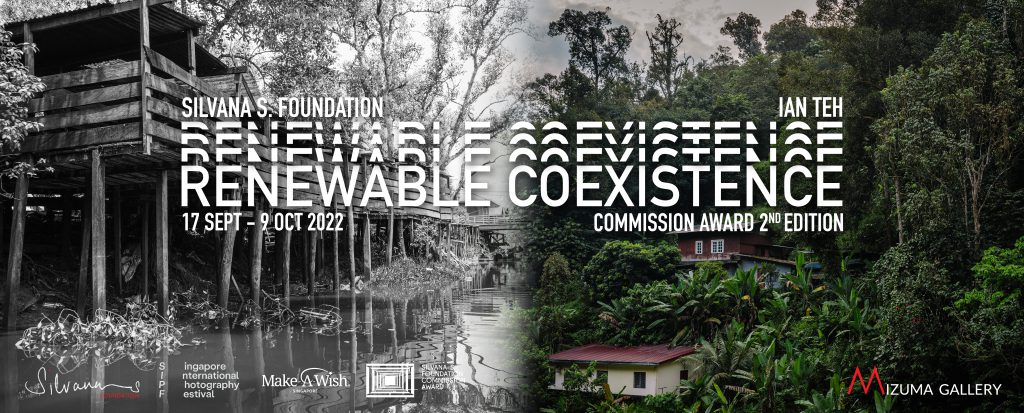 Silvana S. Foundation, Mizuma Gallery, and Singapore International Festival (SIPF) are pleased to announce Renewable Coexistence: Silvana S. Foundation Commission Award Exhibition, 2nd Edition.
The Silvana S. Foundation Commission Award Exhibition, recognizes artists' ability to interweave environmental, wildlife, and humanitarian concerns into their photography. The winner of this edition's Silvana S. Foundation Commission Award 2nd edition is Ian Teh, a British-Malaysian documentary photographer.
The COVID-19 pandemic prompted widespread, collective reflections on the changes that are needed for a more
equitable and sustainable world. With our human lives intrinsically intertwined with other animals, how can we coexist in sustainable ways that benefit human beings and the planet? This second edition of the commission award welcomes explorations of renewal, regeneration, and synergistic co-existence with a sensitivity toward the conditions needed for our shared survival for generations to come.
Renewable Coexistence features new commissions by Ian Teh, The Line of Least Resistance, alongside selected works by Silvana Sutanto presented by Silvana S. Foundation. The exhibition will begin with an Artist's Talk by Ian Teh on Saturday, 17 September 2022, 3pm to 4pm; followed by Vernissage from 4pm to 7pm.
A special mention awarded was given to Farzana Akhtar to highlight her project "A Litany for Survival" and the importance of her social message to the public at large. Her works will be presented as a digital showcase at Mizuma Gallery.
Due to limited capacity, kindly RSVP to info@mizuma.sg to register your attendance by Thursday, 15 September 2022.
Renewable Coexistence will run from 17 September to 9 October 2022 at Mizuma Gallery, 22 Lock Road #01-34 Gillman Barracks, Singapore 108939.
The gallery will open from 11am-7pm on Tuesdays to Saturdays, and 11am- 6pm on Sundays. The gallery will be closed on Mondays and Public Holidays.
Proceeds from this exhibition will go towards Make-A-Wish Singapore.
Artist's Talk by Ian Teh: Saturday, 17 September 2022, 3pm–4pm
Vernissage: Saturday, 17 September 2022, 4pm–7pm
About Singapore International Photography Festival (SIPF)
SIPF is the longest-running photography festival in Southeast Asia which aims to advance the art and appreciation of photography. SIPF functions as a key platform to discover, nurture and propel Southeast Asian photographers onto the international stage. Through its associate programmes, the festival hopes to engage the public and raise levels of visual literacy, with its firm belief that photography can be enjoyed by all. For more information: https://sipf.sg
About Mizuma Gallery
Executive Director Sueo Mizuma established Mizuma Art Gallery in Tokyo in 1994. Since its opening in Gillman Barracks, Singapore in 2012, the gallery aims for the promotion of East Asian artists in the region as well as the introduction of Southeast Asian artists to the international art scene. From 2014 to 2019, the artist residency space "Rumah Kijang Mizuma" opened in Yogyakarta, Indonesia, to create a new platform for dialogue by supporting exchanges between East Asia and Southeast Asia. Later in 2018, "Mizuma & Kips" in New York, USA, as a shared collaboration between Mizuma Gallery from Tokyo and Singapore and Kips Gallery from New York. For more information: https://mizuma.sg
About Gillman Barracks
Set in a former military barracks dating back to 1936 and surrounded by lush tropical greenery, the Gillman Barracks visual arts cluster was launched in September 2012. Gillman Barracks' vision is to be Asia's destination for the presentation and discussion of international and Southeast Asian art. Today, Gillman Barracks is a place for art lovers, art collectors, and those curious about art. The cluster is a focal point of Singapore's arts landscape, and anchors the development of visual art in the region and beyond.
Press Contacts