Singapore, 20 December 2019
FOR IMMEDIATE RELEASE
Silvana S. Foundation Commission Award – A brand new commission award for Asia Pacific photographers focusing on environmental, wildlife preservation and humanitarian concerns.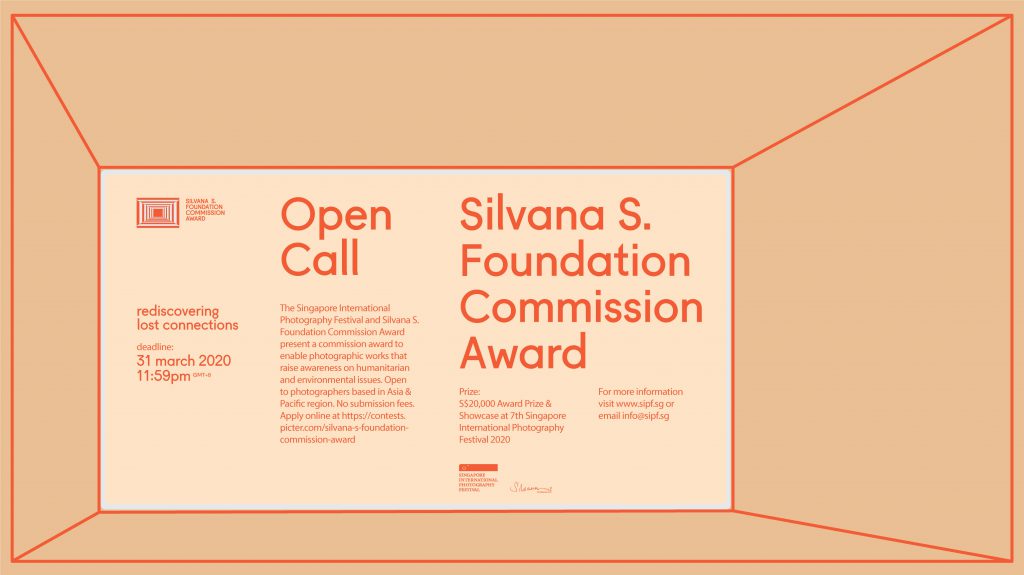 Silvana S. Foundation and Singapore International Photography Festival (SIPF) are pleased to announce the Silvana S. Foundation Commission Award as part of SIPF international programme in 2020. The Silvana S. Foundation Commission Award will be the first commission award in Asia that aims to empower Asia Pacific-based photographers who are committed to present original and creative photographic works that address environmental, wildlife preservation, and humanitarian issues.
The Silvana S. Foundation, has committed to support three editions of the award as part of SIPF 2020, 2022 and 2024 respectively.
Each edition hopes to further expand the vision and understanding of our complex human-nature relationship, while also conferring public exposure to the commissioned artists.
Mr Shaun Gozali, director of Silvana S. Foundation says, "It is said that a picture paints a thousand words. This commission award is set up for continuing our mother's legacy of raising awareness for humanitarian and environmental issues through the power of the photographer's lens."
For the inaugural edition, the theme Rediscovering Lost Connections speak of the imminent need to reconnect our ways of living back to our immediate surroundings – the environment, people and living creatures that co-exist on planet Earth. The award will enable creation of new works by photographers in Asia Pacific, raising the profile of photographers and ultimately highlighting global issues in the community.
"With this generous commitment from Silvana S. Foundation, this award will engage the photography community to shift and deepen their photographic works on environmental and humanitarian issues. And SIPF's international platform will further amplify the photographers' messages about this planet we call home." – Gwen Lee, director of SIPF
Based on an Open Call, photographers in the Asia Pacific region are welcomed to submit their proposals and portfolios. A panel of jury members consisting of esteemed photographers and curators (refer to Annex A) will assess the applications to select 5 finalists. The finalists will be interviewed by a Silvana S. Foundation representative, SIPF director Gwen Lee, and gallerist Valerie Cheah of Jada Art Gallery to arrive at one winner. The winner will be awarded with SGD$20,000 and an exhibition as part of SIPF in October 2020 (refer to Annex B). Jada Art Gallery is invited as a gallery partner to oversee the sales of the commissioned works, of which part of the proceeds will go to supporting selected charities and wildlife causes in Asia that will be chosen by Silvana S. Foundation.
The Open Call is scheduled to launch online for submissions beginning from 1 January 2020 to 31 March 2020 on https://contests.picter.com/silvana-s-foundation-commission-award. There is no submission fee, and applications are opened to all photographers based in Asia and the Pacific region whose works addresses the theme.
About Singapore International Photography Festival
Singapore International Photography Festival (SIPF) is a biennial gathering of minds from around the world with the common pursuit to advance the art and appreciation of photography. The first edition of SIPF was launched in 2008 and the festival is now the largest international photo festival held in Southeast Asia. In each biennale edition, SIPF hosts some of the biggest names in photography, uncover new talents, and promote understanding of the world and society through creative photographic expression. www.sipf.sg
About DECK
DECK is an independent art space launched in 2014 with the mission of supporting and nurturing the community of photography enthusiasts in Singapore and Southeast Asia. This modular site acts as a connector between art institutions, and offers a platform for people to celebrate photography in the heart of Singapore. Driven by the belief that photography is for all, it welcomes professionals and amateurs to come together, mingle and be inspired. DECK is the organiser of the biennial Singapore International Photography Festival (SIPF). www.deck.sg
Media enquiries for information and interviews
Priscilla Toh
Communication & Partnership Manager, DECK
priscilla@sipf.sg
+65 6734 6578
DECK 120A Prinsep Street Singapore 187937